About Us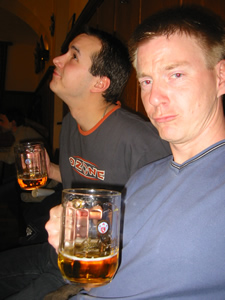 Have you ever had one of those evenings when you're out with a friend having a couple of beers and you come up with what seems like a great idea only to find out that it's already been done? It turned out it hadn't been done so here it is.
We've worked very hard to search for pubs near the tourist center of Prague that serve quality beer at reasonable prices in a great pub atmosphere. Take a look at what we have to offer and let us know what you think by commenting on a below a pub or sending us a message with our contact us form. We'll leave you with theories we were testing out around 2005 when we made this site. By the way, that was when this picture was taken too.
Kuba: Girls look better after a couple beers so beers must look better after a couple girls.
Mike: I think the more urinals a pub has, the better the beer at the pub must be.
Cheers – Kuba and Mike