Transportation
The Prague Public Transportation system is efficient and cheap. You have your choice of Tram, Metro, or Bus. For the most up-to-date information on transportation in Prague, visit the official Czech Transport website.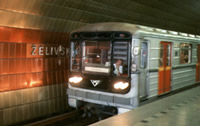 The whole underground network is divided into the three main lines, each represented by its own color:
Intervals
metro operates daily 5:00am – midnight
two to three minutes between trains during peak hours
four to nine minutes in off peak hours (after 7:00 pm).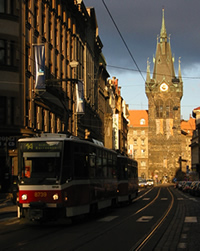 With tram you can have access to the downtown Prague and places, where the buses do not enter. The city center has the tram network operating during the day and night.
Night trams
During the night (from midnight until the 4,30 a.m.) there are transferring tram lines from 51 to 59. Each stop has its schedule.
Connection to metro
The tram stop which is marked with the sign =M= means that there is the possibility to get out and continue with the metro.
Tram intervals
The intervals are variable from 2 minutes to 20 minutes, depending on the location, peak hours or weekend.