Self-Guided Pub Crawls
Ever since the second pub in Prague was opened there has been pub-crawling, although most Czechs find a favorite spot and never leave. There is no better way to experience Czech beer than to crawl your way through the maze of twisted streets with the hopes of an even tastier pilsner to urge you on to the next pub. Below are three options. Feel free to change them as you see fit. Remember the crawls are planned with the hours of each pub in mind so it may be better to do them in order (pubs usually close at 11:00 while clubs are open until 4 or later).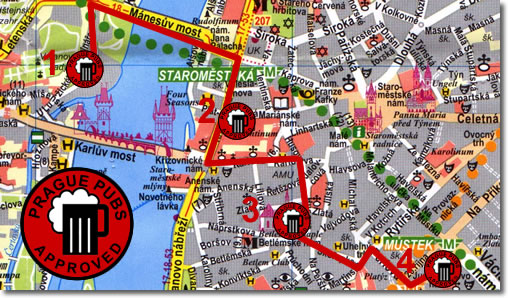 Only four pubs but a lifetime of drinking. All four of these pubs are Pilsner Urquell tank pubs and serve the mother's milk of lagers, un-pasteurized Pilsner Urquell. And all four offer a traditional beer hall feel. These are popular places and close early (23:00) except for the last one which is open until 04:00. I recommend having an early lunch at the first, dinner at the second, and dessert (Pilsner) at the third, and more beer at the fourth.
Malastranská Pivnice – Cihelná 3 (+420 257 530 032)
Pivnice U Rudolfina – Křížovicka 10, (+420 022 328 758)
U Zeleného Stromu – Husova 1 (+420 222 220 228)
U Pinkasu – Jungmannovo Naměsti 15 (+420 221 111 153)
Let us know what you thought about this crawl. We appreciate feedback.

The Kings Way was the path Royalty took when going to Prague Castle. After this crawl you may think you're royalty. The Kings Way Crawl starts just past Prague Castle, goes through Mala Strana, across the Charles Bridge, and into the Old Town. Place your cursor over each pub location to see the name and click for more details.
U Černého vola – Loretánské nám. 107/1 (+420 220 513 481)

U sedmi Švábů

– Jánský vršek 241/14 (+

420 257 531 455

)

U Kocoura – Nerudova 205/2 (+420 257 530 107)

U Glaubiců –

Malostranské nám. 266/5

(

+420 257 532 027

)

Restaurant U Zlateho Stromu

–

Karlova 187/6

(

+420 603 804 126

)
Let us know what you thought about this crawl. We appreciate feedback.